See the main page about the NED University of Engineering & Technology at: NED
NED Itself and Campus Organizations
[
]
Alumni Websites
[
]
Directories
[
]
Conventions
[
]
2013 Convention in Connecticutt
[
]
No separate website or page; details on the home page of the NED International Alumni Network of North America (NEDIAN-NA):
2012 International Convention in Washington, DC
[
]
2011 International Convention in New Jersey
[
]
http://nedian.org/wp-content/uploads/2012/09/IMG_1852.jpg http://nedian.org/wp-content/uploads/2012/09/Pakistan_Link_-_14_October_2011_-_Page_19.pdf
2010 International Convention in Chicago
[
]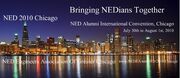 2009 US Convention in Los Angeles
[
]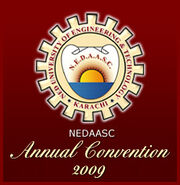 Event details coming up.
Event site: http://www.nedaasc.org/Convention2009.aspx
2008 US Convention in Connecticutt
[
]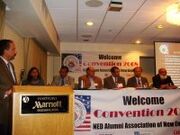 On November 1, 2008 the NED Alumni Association of New England hosted NED Alumni 4th annual convention at the Marriott in Farmington, Connecticut. The conference was designed to help establish a more effective collaboration between NED University and its Alumni in the United States by:
Discussing the help that Alumni can provide to NED University of Engineering and Technology (NEDUET);
Discussing current ranking of NEDUET in Pakistan;
Explaining the significance of curriculum and technology in an institution and how NED standards differ from other top-notch institutions in countries as US and India.
The convention was highly successful. It attracted an attendance of about 150 in the morning session of panel discussions, while in the evening the dinner and entertainment session was attended by over 400 guests. These guests had traveled from all parts of the country including California, Texas, Illinois, New York, New Jersey, and Canada.
More info at: http://www.NEDNEC.org
Pictures: http://www.nednec.org/pix.html
2007 US Convention in Silicon Valley - September 8, 2007
[
]
Visit PakAlumni [1] social network spawned by NEDians Convention 2007
Browse NED Alumni logo merchandise [2]
2006 US Convention
[
]
Convention on August 5, 2006 in

New Jersey

.
2005 US Convention
[
]
Regional Events
[
]
Chicago Area: Picnic by NEDEA, June 2007
Multimedia and Web 2.0
[
]
Video for 2011 NJ Convention
[
]
Web 2.0 Collections
[
]
SCOPE Get-Together February '07 (Southern California/Los Angeles Area)
[
]
Civil '97 Video Memoir
[
]
Batch 80-81 Mech Get-to-together
[
]
Social Media/Mail Groups, Associations, etc.
[
]
General/Global
[
]
Currently Active
[
]
Note: Several of the lists under #Batch- / Class-wise are pretty active; and several are very open to any NEDians joining.
Full List
[
]
Technology-wise
[
]
Batch- / Class-wise
[
]
Geographical Groups
[
]
Lists dominated by NEDians
Within Organizations
[
]
Cisco Systems has an internal list for NEDians.
Microsoft Corporation has an internal list for NEDians.
Alumni Activity, Achievements, & Service
[
]
Honours
[
]
Professional Groups Started By NEDians
[
]
Papers, Essays, Lectures
[
]
Articles
[
]
Speaking, Conferences, Keynotes, etc.
[
]
Books
[
]
Ali Ahmed Minai

, Electrical '80-81

Compilation of Urdu Poetry - published in 2005

Anzar Salam & Ameer Azam, MD (Medical Engineering), Batch '05-06'

Mobile Robots: Paradigm Approach for designing & Development of Algorithms for Autonomous Path Planing and Navigation

Aquila Ismail

, Electrical ??-??

Godavari by Fehmida Riaz (Translation) Oxford University Press , Pakistan
Harvest of Anger and Other Stories by Asad Muhammad Khan (Translation), Pakistan Writer Series, Oxford University Press, Pakistan
Zindabhar Lane by Fehmida Riaz(Translation), City Press, Karachi Pakistan
Microcredit Programme of Opp-Orangi Charitable Trust, Gazelle Distribution Trade (January 1, 2006).
Available on Amazon
ISBN-10 1463694822 ISBN-13:978-1463694821
Of Martyrs and Marigolds, CreateSpace (February 27, 2012)
Available on Amazon
Preview of Newsline Interview

Harris Khalique, Mech, Batch '84-85

Aaj Jab Huwee Barish, Irtiqa, 1991
If Wishes Were Horses, Irtiqa, 1996
Saarey Kaam Zaroori Thay, Fazleesons, 1997
Divan, Ceen, 1998
Unfinished Histories, Alhamra, 2002
Between You and Your Love, Fazleesons, 2004
Ishq Ki Taqveem Mein..., Daniyal, 2006

Jami J Shah

, Mech, Batch '72-73

Parametric & Feature based CAD/CAM, John Wiley, 1995
Feature based manufacturing, ElSevier Science, 1994

Khalid Raza

, EE, Batch '82-83
Musharraf Farooqi, ??
Note: Musharraf is not technically a graduate of NED, but is definitely part of the "NEDian" community, see: http://www.dawn.com/weekly/books/archive/080504/books8.htm .

SALAR JANG'S PASSION, Summersdale Publishers, 2002
THE STORY OF A WIDOW: A NOVEL, Knopf Canada, 2008
THE COBBLER'S HOLIDAY or Why Ants Don't Wear Shoes, Illustrated by Eugene Yelchin, A Neal Porter Book/Roaring Brook Press, 2008
THE ADVENTURES OF AMIR HAMZA, Ghalib Lakhnavi & Abdullah Bilgrami, A complete and unabridged translation by Musharraf Ali Farooqi with an introduction by Hamid Dabashi, Random House Modern Library, 2008
Faculty in Universities
[
]
Shah Jamshed Jami

, ME Batch 1973
AKA Jami J. Shah, Ph.D., Professor, Fulton School of Engineering Arizona State University, Tempe AZ 85287-6106
Director, Design Automation Lab
Chief Editor, ASME Transactions Journal (JCISE)
Kamran Ali Khan, CE Batch 1984-85
Faculty member
Dept. of Telecom. & Comp. Engr.
FAST-NU, Karachi Campus.
Community Service (including Politics)
[
]
Alumni Community Service
[
]
Companies
[
]
Aero Asia Limited.: Former Vice Chairman,

Rauf Tabani

, CE '76 Batch.
Barbed Wire Technologies : Founder/CEO,

Zia Iqbal

Cavium Networks: Founder/CTO and VP Software,

Raghib Hussain

, CSE, Batch '87-88
See: http://www.marketwatch.com/search/?value=cavium for news and
http://finance.yahoo.com/q?s=cavm for stock quotes
Computers and Structures, Inc.: President/CEO, Ashraf Habibullah, Civil, Class of 1969
Infonox: Founder/CEO

Safwan Shah

, EE, Batch '80-81?
http://www.infonox.com/press/default.shtml
Itim Systems Software, Pakistan: General Manager/CEO

Azfar Jafri

, ME, Batch '86-87
Jersey Precast : Founder/CEO

Amir-ul-Islam

Mertech Data Systems, Inc.: Founder/CEO,

Riaz Merchant

, CSE 84-85
MyGlobalCam, Inc.: Founder,

Riaz Merchant

, CSE 84-85
NexLogic: Founder/CEO

Zulki Khan

Paragon Construction : Founder/CEO

Aftab Siddiqui

Pakistan Telecommunication Corporation Limited.: CEO,

Walid Irshad

Batch?
SimCon: Top management includes

Ahmed Safi

, Mech '80-81, and

Farrukh Jamal

(who is also Group Director Technical for the whole Aftab Group of Companies,of which Simcon is a member organization)
Sonasoft: CTO/VP Engineering,

Bilal Ahmad

, CSE, Batch 88-89
http://www.sonasoft.com/company/management/bilal-ahmed/
Vertical Systems Inc. CEO,

Saeed Kazmi

EE 72-73; CTO, Idris Kothari EE 72-73
WiChorus (now a Tellabs company): Founder/CEO

Rehan Jalil

, EE, Batch '87-88
Professional/International Sports
[
]
Hasan Sardar

- Hockey
Scored 150 goals in 148 International matches. Career lasted 1979-1987 [Needs link for records/career]
Manzoor Akhtar: EE-B, Batch 89-90
Nadeem Wahab: ME, Batch 73-74
Rashid Latif: CE, Batch 86-87
Saeed Anwar: CSE, Batch 86-87
Mountain Climbing, Adventure, etc.
[
]
Aman Ashraf, first Pakistani to scale K2 (Mt. Goodwin-Austin)
Showbiz
[
]
Media
[
]
ABN Chicago had at least three active NEDian team members (

Shahran Asim

in production and hosting, and

Sabahat Ashraf

, "iFaqeer", doing a tech segment, helping with online publishing, and other input, as well as

Rauf Tabani

providing commentary from Pakistan.)
Azad Karachi Radio had an all-NEDian founding team: iFaqeer (Sabahat Ashraf CSE, Batch '87-88) and Ali Hasan Cemendtaur, Mech, Batch '80-'81(?)
Brasstacks, show on geo-politics on Express TV has Zaid Hamid (Syed Zaiduzzaman Hamid), CSE, Batch '82-83, as the main expert.
He also has/appears on other shows such as Iqbal ka Pakistan and so on.
Chowk has an NEDian founder,

Safwan Shah

, EE, Batch '80-81(?)
"DEEN DIALOGUE" & "SIRAAT-E-MUSTAQEEM, the former a religious program focusing upon graas root issues like TAUBA, GHEEBAT, JAZAA-U-SAZAA etc and the later, a socio-religious program pitched for the youth, aired LIVE on TV One , hosted by Kamran Ali Khan, CE, Batch '84-85.
Blogs
[
]
Collaborative NED-Themed
[
]
NEDians' Blogs
[
]
Other Blogs NEDians Contribute To
[
]
See also
[
]